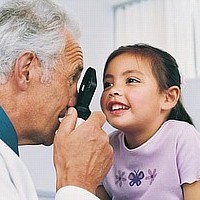 The mission of the profession of optometry is to fulfill the vision and eye care needs of the public through clinical care, research, and education, all of which enhance the quality of life. Doctors of optometry are independent primary health care providers who examine, diagnose, treat and manage diseases and disorders of the visual system, the eye and associated structures as well as diagnose related systemic conditions.
This website contains information for patients about optometry in the State of Texas. Additional information can be obtained by writing or calling:
Texas Optometry Board
333 Guadalupe Street
Suite 2-420
Austin, Texas 78701-3942
Telephone 512-305-8500
Fax 512-305-8501
Information about Optometry
What is the difference between an Optometrist, Ophthalmologist, and optician?
An Optometrist, licensed by the Texas Optometry Board, is a health care practitioner trained to diagnose signs of ocular, neurological and systemic health problems, treat vision disorders, and prescribe glasses and contact lenses. Therapeutically licensed optometrists also treat eye diseases and injuries, prescribe medicine, and perform other procedures such as eye foreign body removal.
An ophthalmologist is an eye surgeon trained in eye surgery and eye disease. Ophthalmologists prescribe glasses, contact lenses, medicine, and perform major eye surgery such as cataract surgery.
An optician is an eyewear provider trained to select, manufacture and dispense spectacles and sell or deliver contact lenses upon a prescription written by an optometrist or ophthalmologist. An optician is not licensed as an optometrist or ophthalmologist.
What is the education and training of an Optometrist?
The academic credentials of students entering a college of optometry are the same as those entering other health professions. The optometry college curriculum is a minimum of four years. After graduation, the national and Texas Board examinations must be passed to be eligible for licensure.
How is the competency of the Optometrist continually evaluated?
Optometrists, by law, must complete 16 hours of continuing education each year. Six of these hours must be in diagnostic and therapeutic education and techniques.
What is the Texas Optometry Board?
The Texas Optometry Board serves to protect the public and regulate the profession of optometry. It is comprised of nine members, six of whom are optometrists practicing in the State of Texas, and three public members. All are appointed by the Governor and confirmed by the Senate. The duties of the Board include conducting examinations, issuing and renewing licenses, monitoring professional practice, answering questions and receiving and processing complaints from the public.